Instructions
How to apply DETOXY COLOR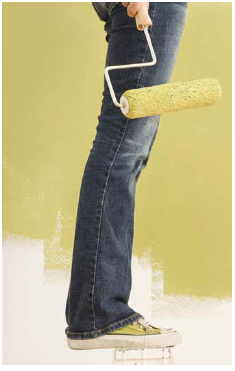 1. The Surface
• The surface for coating must be clean, dry and even.
• Previous coatings, which are loose and non-adherent are to be removed.
• All surfaces are recommended to be primed with a penetration solution called Rokogrund Silikat. We strongly recommend penetrating two times - every surface and every time for optimal results.
Surface Preparation
The surface for DC must be sufficiently sound so that the silicate penetration solution can be well adhered to the surface. If the surface is not sound, DC will crack, spall or detach. Adhesion of the penetration solution can be tested with the application of a adhesive tape over the cured / primed area and pulled-off to determine adhesion strength. If peeling occurs with the applied tape, the surface has to be cleaned, roughened and re-primed with Rokogrund Silikat. Uneven surfaces, damaged plaster, or cracks need to be repaired by an appropriate putty or rebuilding agent. New concrete should be allowed to cure for a minimum of 28 days or until all effervescence stops emitting from the new concrete. Moisture permeation test can be conducted in the following manner:

a) Cover the whole concrete surface with a plastic sheet and seal the edges with a masking tape.
Hold the test for 24 hours.
b) If No water droplets are observed within the tested area, the concrete is fully set.
Application of two coats of Rokogrund Silikat is recommended for all areas. Both coats should be allowed to dry prior to the application of DC. Application of both DC and Rokogrund Silikat should be carried out above the temp of 15°C. Applications below 15°C, may lead to powdering / chalking. DC is supplied in the right viscosity and will not require dilution. However if dilution is required, a 5% addition of water can be added.
2. APPLICATION OF THE PAINT
• Apply DC to the prepared surface with a paint-roller.
• Areas that are not accessible with paint roller can be applied with a paint brush.
• Recommended number of coats 1, preferably 2 coats in two passes.
3. CONSUMPTION OF DETOXY COLOR
• Consumption of DC subject to surface conditions and is between 0.15 to 0.3 kg / m².
• For new surfaces, average consumption of DC for 1 kg = 3 to 6 m².
Warning
The application procedure should be strictly followed. The manufacturer is not liable for any damages caused if the application procedure is not followed.